Washington (CNN) Report
A Republican lawmaker demanded Wednesday to know why investigators have not captured or killed any of the suspects in the attack on the U.S. diplomatic mission in Benghazi, pointing out that CNN was able to find a man who some say was the ringleader in the assault that left the ambassador and three other Americans dead.
Eight GOP lawmakers are asking that incoming FBI Director James Comey brief Congress within 30 days about the investigation. They say the administration's inquiry into the September 11, 2011, attacks in Libya has been "simply unacceptable," according to a draft letter obtained by CNN.
"One of the pertinent questions today is why we have not captured or killed the terrorist who committed these attacks?" Rep. Jason Chaffetz, R-Utah, told reporters. "News out today that CNN was able to go in and talk to one of the suspected terrorists, how come the military hasn't been able to get after them and capture or kill the people? How come the FBI isn't doing this and yet CNN is?"

Chaffetz was referring to CNN's recent interview with Ahmed Abu Khattala, who Libyan and U.S. officials have described as the Benghazi leader of the al Qaeda-affiliated militia group Ansar al-Sharia — one of many groups that filled the vacuum of authority following the overthrow of Moammar Gadhafi.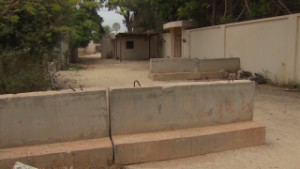 He has been described as a "person of interest" in the investigation, according to officials.
In that interview, Khattala told CNN's Arwa Damon that he had not been contacted by any Libyan or American officials.
"Even the investigative team did not try to contact me," he told Damon, referring to the FBI.
When asked whether he would be willing to meet with investigators if they asked, Khattala said: "Yes, no problem. …But not as an interrogation, as a conversation like the one we are having right now."
Damon spent two hours interviewing Khattala at a coffee shop at a well-known hotel in Benghazi, describing his demeanor as fairly relaxed. He allowed Damon to use an audio recorder to tape the conversation, but refused to appear on camera.
Khattala's narrative of the events that night was sometimes unclear and, at times, seemed to be contradictory, Damon said.
He admitted to being at the compound the night of the attack, but denied any involvement in the violence.
When he arrived at the perimeter of the compound, Khattala said he saw men carrying RPGs and medium guns, but that gunfire prevented him from getting close and entering the compound